Day Tripper

When designing this knife I had lightweight on my mind. I wanted something that you could carry around all day while outdoors and never know it was there.
Knife Specs:
Comes standard in 1/8" Thick 01 Tool Steel
Overall Length: 9-3/8"
Cutting Edge: 4-1/4"
Thunderstorm Kevlar with OD Green and Tan Kydex Sheath and Ferro Rod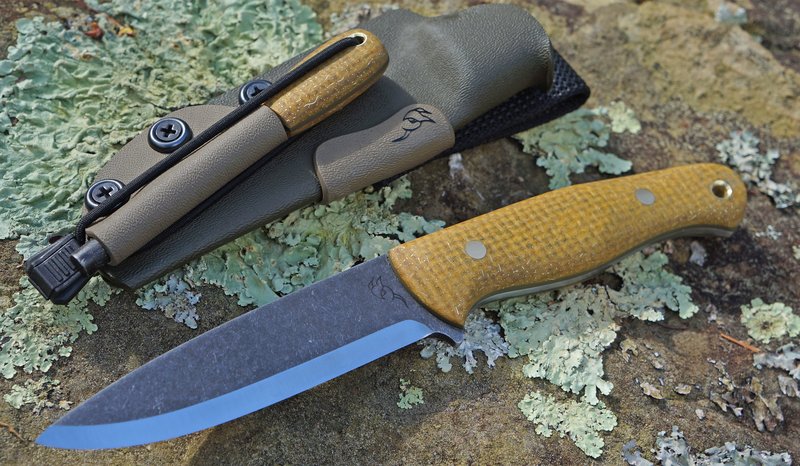 PlantStone Handle with Blue G10 Liners.

Black Kydex Sheath with Belt Loop Attachment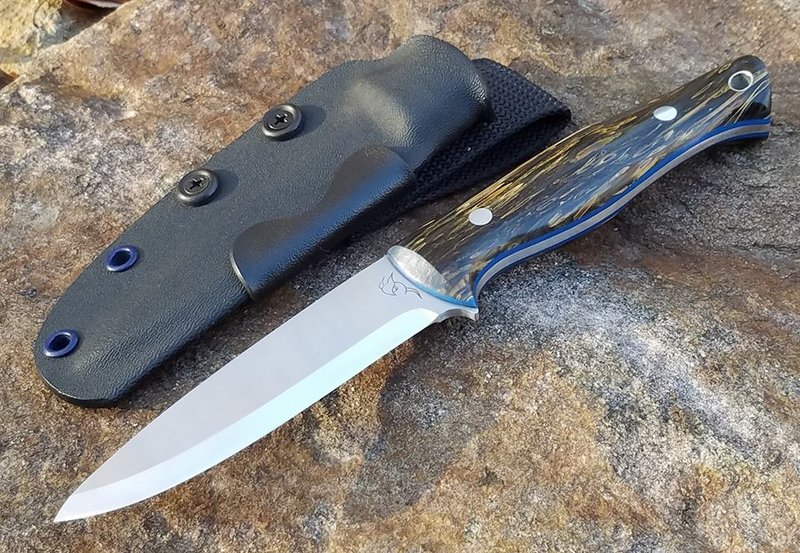 House Made Micarta. Acid Etched/Stonewashed Blade. Carbon Fiber Pins
Raptor Kydex with Carbon Fiber Accents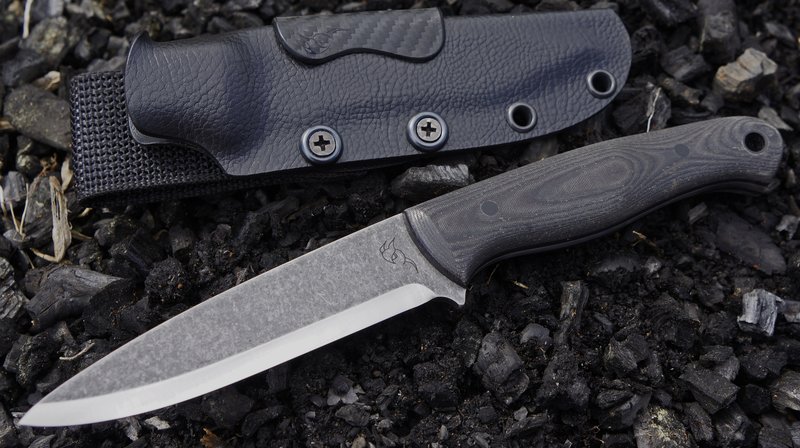 Western Puukko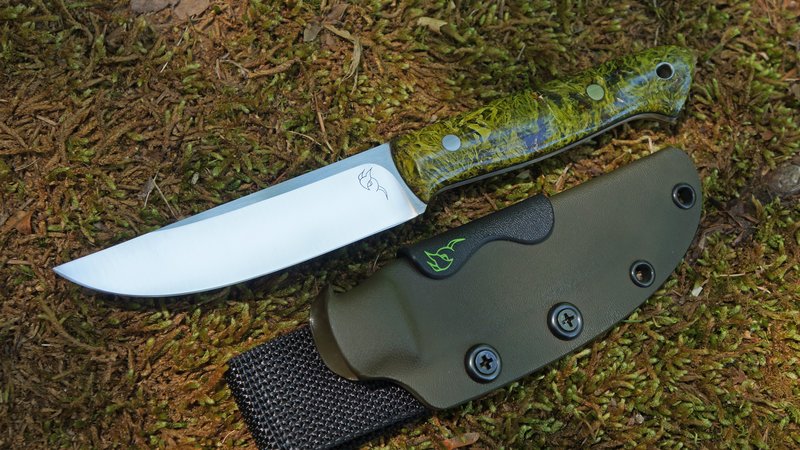 I am very excited that I finally completed this model. It is my take on a great knife design and I find it to be very useful! The Puukko knife has been a companion to the Finnish woodsman for around a 1000 years and is still a very popular knife today. The knife is light and slim and very easy to carry, It excels at task such as skinning, cleaning fish and woodcarving. It features a 3/4" height flat grind with a micro bevel for versatility and ease of maintenance. I can make this knife also with a scandi grind if preferred. The flared tubes attaching the handle allow this knife to be lashed to a stick to make a spear in a survival situation. A contoured wooden handle can be made for this knife to make it a very comfortable work knife.

Knife Specs:

Made from 1/8" 01 Tool Steel.
8-3/4" Overall Length
4-1/4" Cutting Edge.
This model comes standard with:
Black Micarta or G10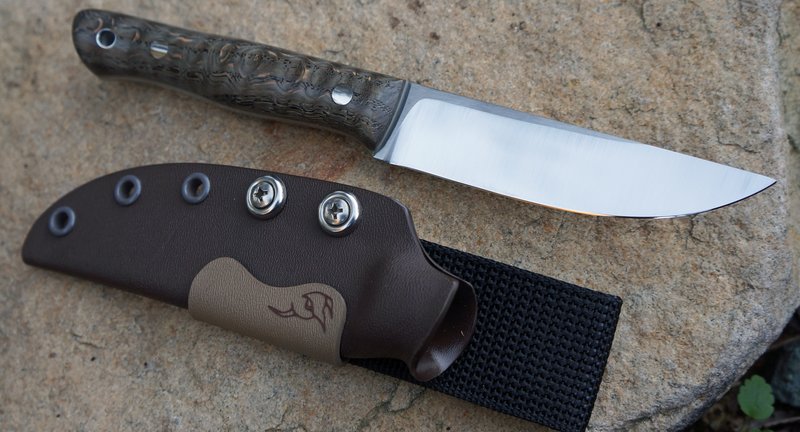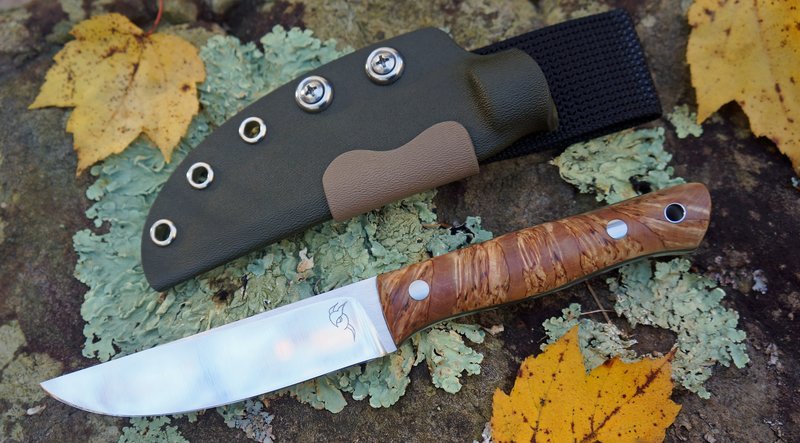 Carolina Slim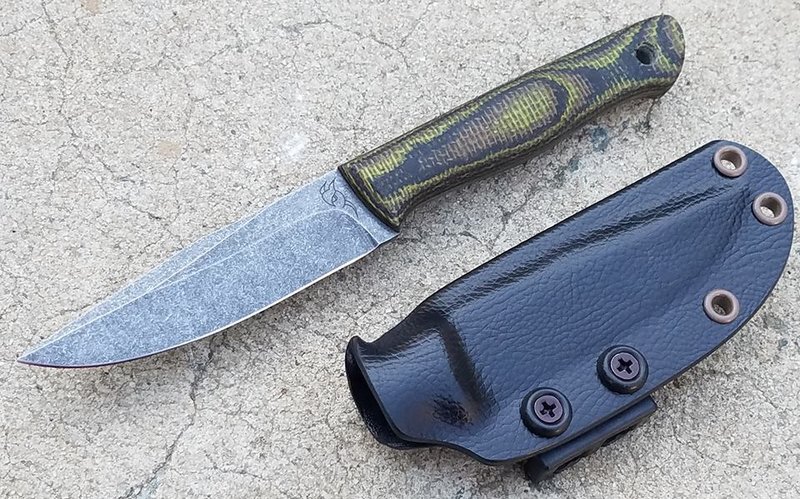 8.5" Overall 4" Blade
5/32" 01 Tool Steel. Acid Etched and Stone washed for durability and corrosion resistance.
58-59 Rockwell hardness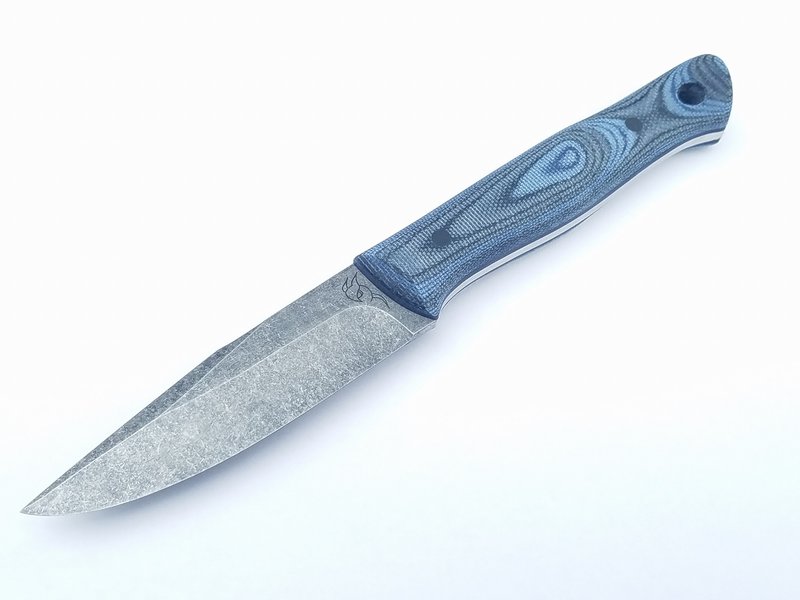 Oak Bottom Hunter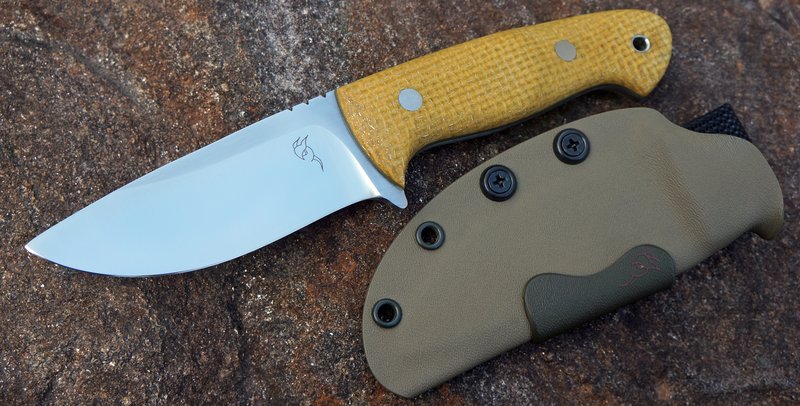 This knife has been one I have been thinking about the design for a while now. Being an avid hunter I knew all the details I would want in a hunting knife. I wanted it to not only excel in skinning but also be useful while in the woods on the hunt itself. This knife features a 3/16" thick CPM 154 blade that has been given a sub zero quench during heat treat for toughness and edge retention. When selecting to taper the tang it tapers down to .060", providing great balance and a knife that weighs less than it looks. The back of the handle has been designed to put the cutting edge well in front of the knuckles making chest high cuts on a hanging deer a breeze. This position also helps with field dressing while kneeling. There is a palm swell and belly on handle for a sure grip while opening the chest cavity. The round coke-bottle contoured handle makes this knife a joy to hold. I am sure this is the last skinning knife you will ever need!
Knife Specs:
3/16" thick CPM 154 Stainless Steel
9-1/8" Overall Length
4" Blade Length
This knife comes standard with:
Black Micarta or G10 Handle
Desert Ironwood with Brown Leather Sheath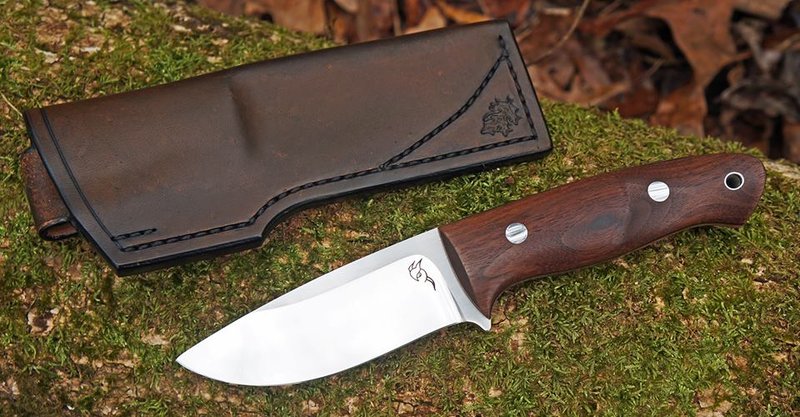 Blue G10 with Black Kydex Sheath and Blue Rivets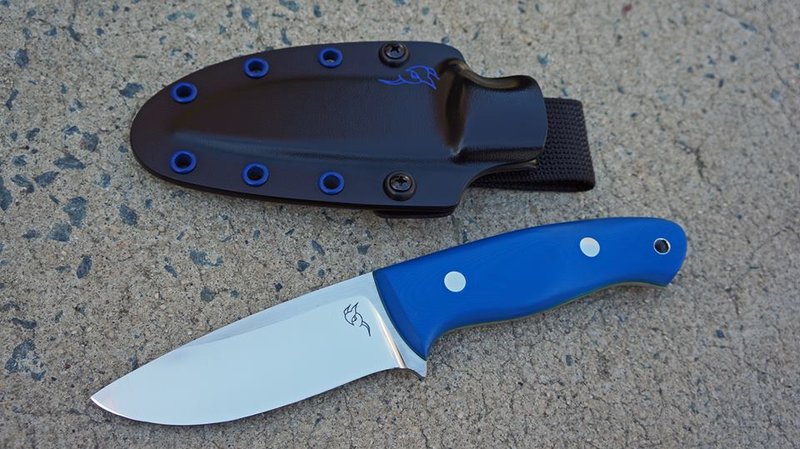 SanMai Steel with Ancient Bog Oak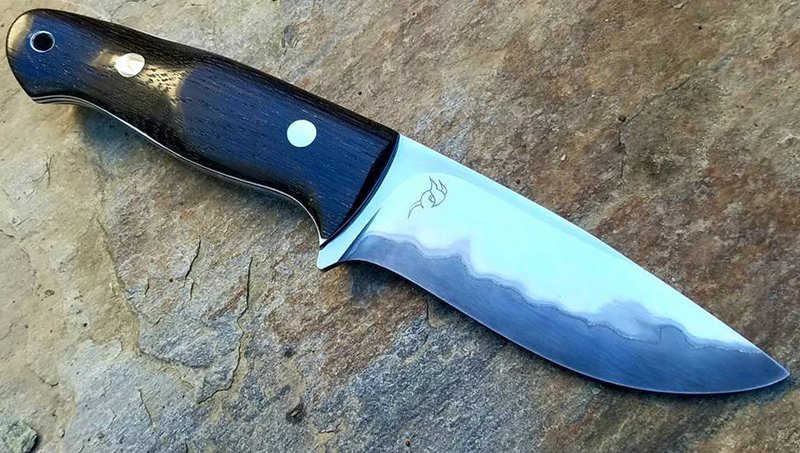 Thicket Buster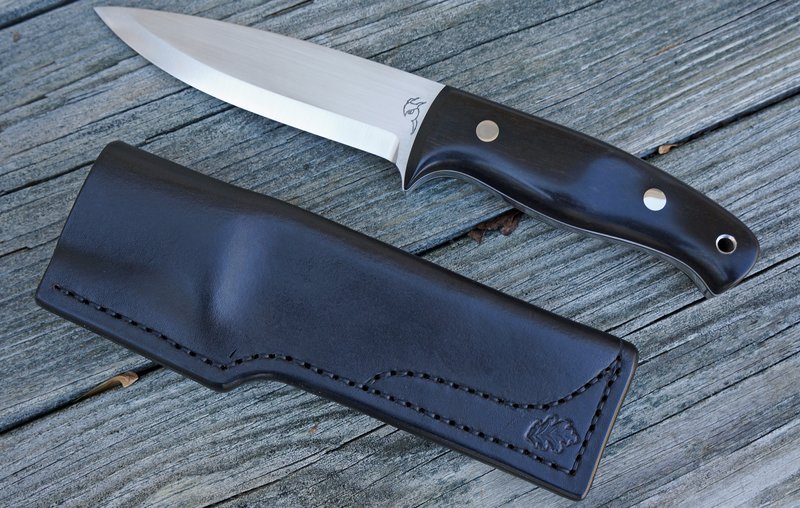 This is your go-to outdoor knife. The Thicket Buster is my Bushcraft Style Knife that is very useful around the campsite, while hiking or when needed to survive. This model is the first model I designed and made for myself and have been making them ever since. When designing this knife my goal was to create a perfect mixture between a knife and a hatchet.
Knife Specs:
5/16" O1 Tool Steel
9.5" Overall Length
4.75" Cutting Edge
True Scandi Grind Bevels
This knife comes standard with the following:
Your Choice of Black Micarta or Black G10
Desert Ironwood with Black Kydex Dangler Sheath and Ferro Rod.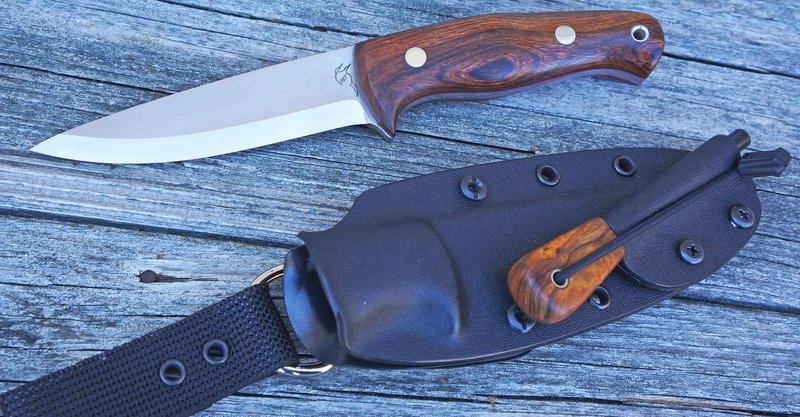 Coke Bottle Contoured Handles for Comfort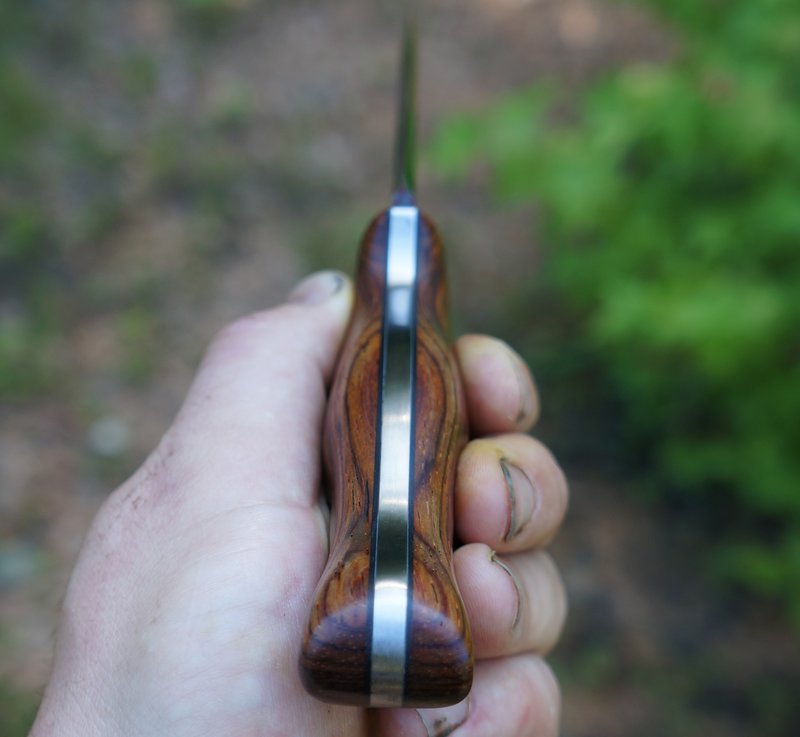 OD Green Bolsters paired with Houndstooth Micarta. Tan Leather Sheath.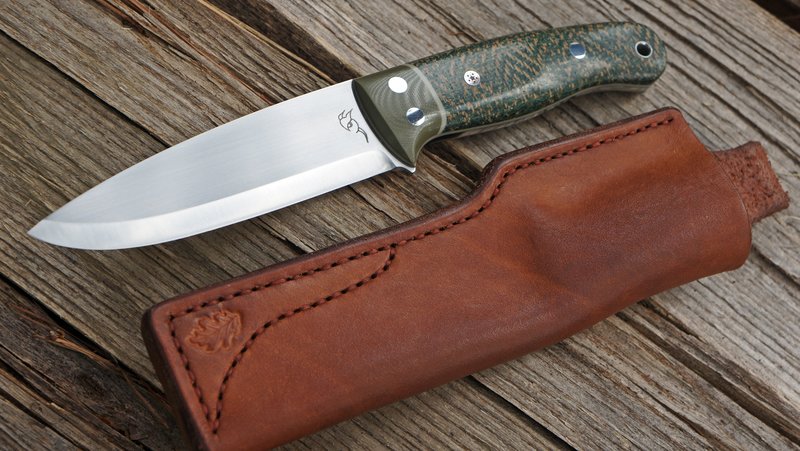 Bocote Handle with Black Kydex Sheath and Matching Ferro Rod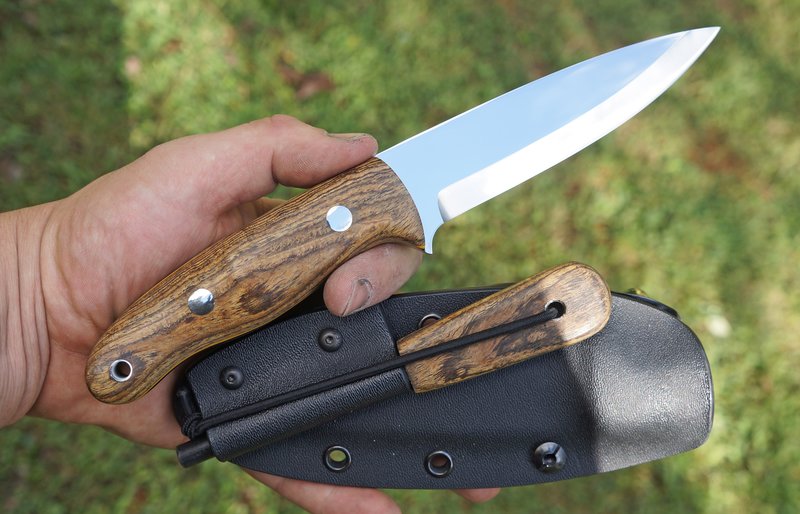 Thicket Buster Elite's
There are only 4 of these made. Each using SanMai steel and exotic handle materials. 3 with Afzela Xlay and 1 with Bog Oak. All also have a handmade leather sheath.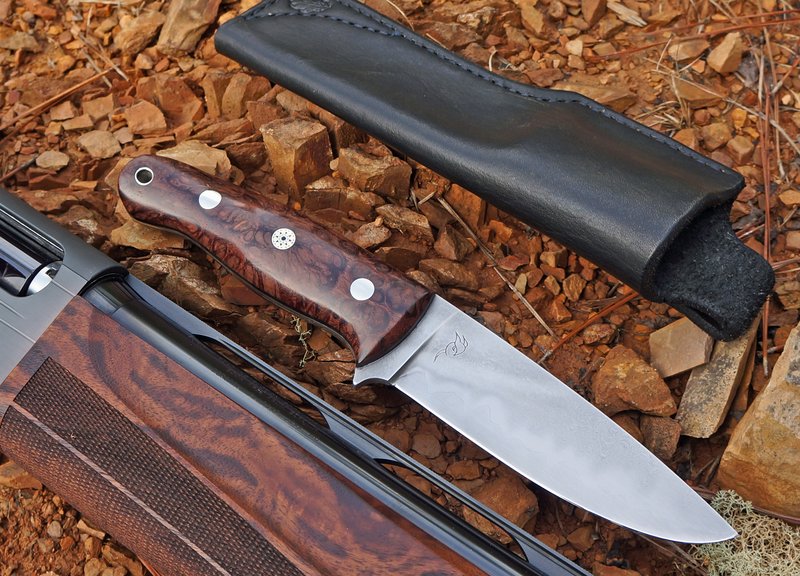 Camp Knife
Made from A2 Steel and measures 13 1/4" Overall with an 8'' Blade. Tapered Tang provides a great balance in the hand!
House Made OD green/Black Micarta Handle. Kydex Sheath.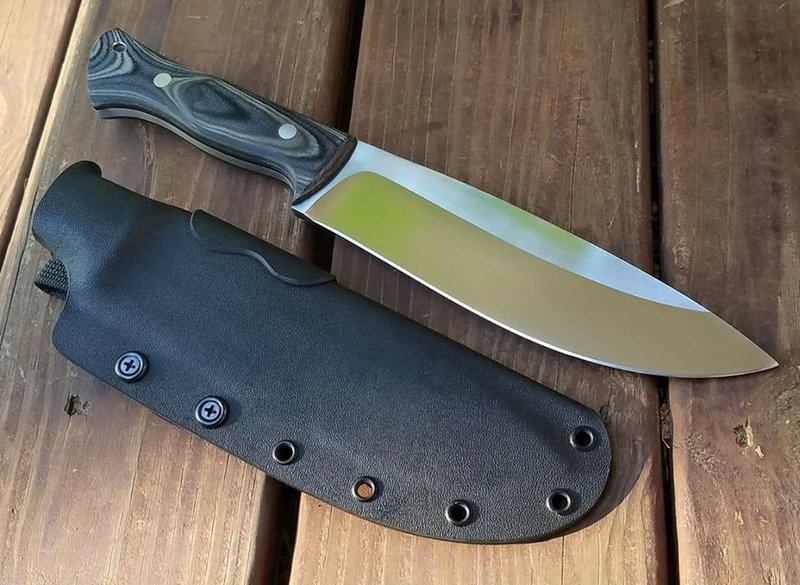 Desert Ironwood Burl. Acid Etched/Stonewashed Blade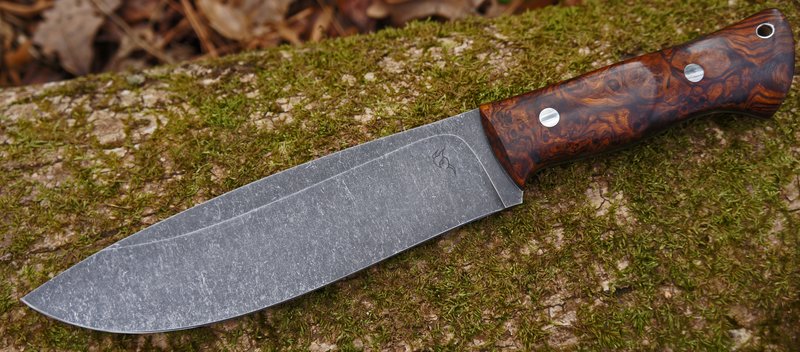 Tapered Tang and Leather Sheath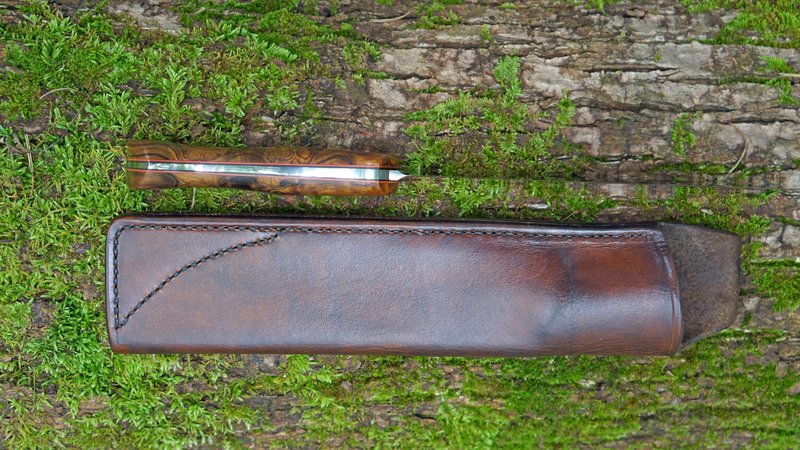 Fish Fowler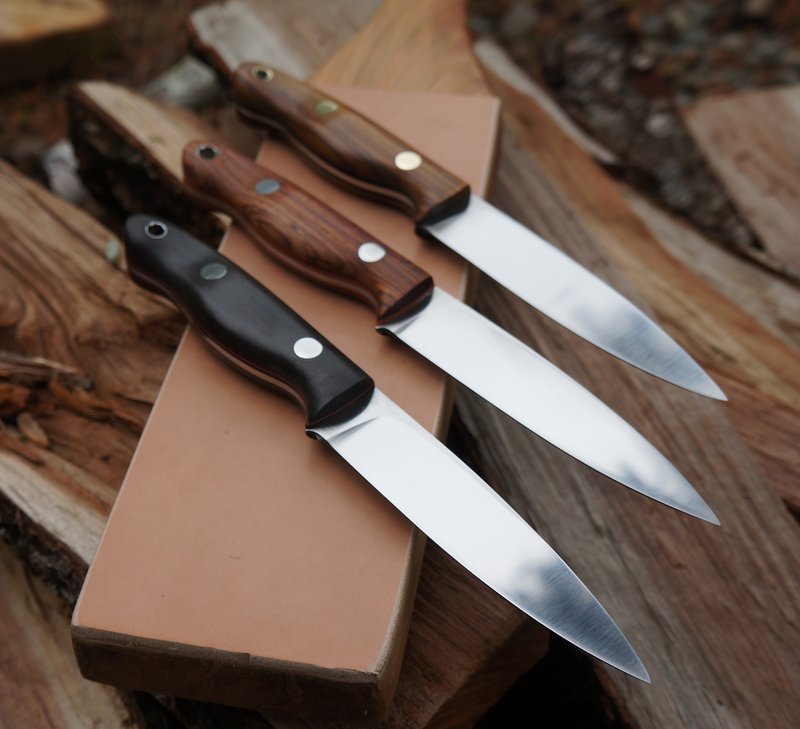 This knife is perfect for a day by the water or a trek into the woods hunting small game. I designed this knife for processing small game, de-breasting fowl and filleting small fish. Its a great camping trip companion or will be great in the kitchen as well.
Knife Specs:
Steel: .1 inch CPM 154 with a Rockwell Hardness of 60.
9-3/8" Overall Length
4-3/8" Cutting Edge ground thin for sharpness
This model comes standard with:
Black Micarta or Black G10 Handle
Stainless Corby Bolts for Hardware
Rockfish Fillet
To get a little more flex I went with a plunge-less full flat grind on this fillet
knife. Very pleased with the performance! This one is made from .070" thick CPM154